ROARR2021 -- Addressing Concerns about Open Science
As a worthy conclusion of our successful ROARR2021 programme, OSCR and the Rotterdam R.I.O.T. Science Club want to give you (yes, you!) the center stage!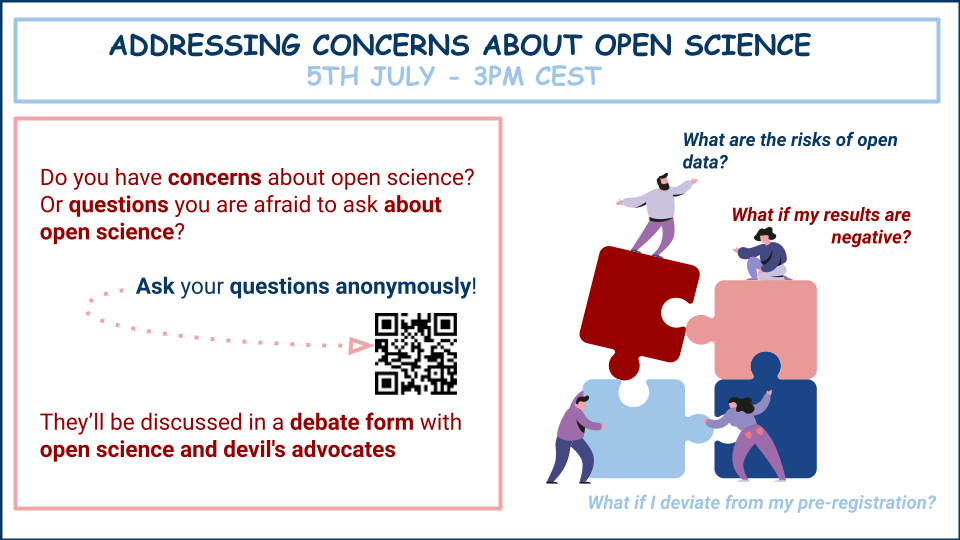 Do you have burning questions on open and responsible research but never had the chance to ask? Write them down in this anonymous Google form, you have time until July 1st at 23:59 CEST!
Some examples can be:
Is open research always better than closed research?
Is it true that some funding bodies require commitment to open research?
What are the benefits and disadvantages of preregistration?
How can I share data responsibly?
What licenses can I use when I share code online?
Are there "open" alternatives to pre-publication peer review?
How can I convince my PhD supervisor that open research is a good thing?
Will researchers ever be rewarded by universities for their openness and transparency?
Lorenza, Bing, Elisabet, and Antonio will collect them and prepare some answers1. You will be given the floor if you want to ask your question live. If, on the other hand, you prefer us to ask on your behalf, we will be happy to do so.
The event will take place on July 5th 2021 at 15:00 CEST and will last 60'. An invitation email, including the Zoom link, meeting ID, and password, has been sent via the OSCR mailing list. If you are not part of the mailing list but would like to join, please contact Antonio.
During the Zoom meeting, please follow these guidelines:
wear headphones
mute your microphone
video is optional (in case of connection issues, you may be asked to turn it off)
pay attention to the moderator (which will be Antonio)
if you have questions

click on the Raise Hand button and the moderator will unmute you; or
write down your question in the chat and the moderator will read it
Please remember that attendees of every OSCR event (in-person or online) are required to follow our Code of Conduct.
ECTs
By completing this form, you can request an ECT certificate for your R.I.O.T.S. seminar attendance (including ROARR2021) in the first half of 20212. Important: you can only request an ECT certificate if you have attended at least 3 seminars.
If you have any questions about the procedures described above, please email the Rotterdam R.I.O.T.S. Club.
Take care,
Antonio Schettino
---
---
Open research is a vast, complex, and wonderful field of knowledge. It does not mean the same thing to all disciplines, and nobody knows everything about it. We cannot guarantee that we will have satisfying answers to all your questions, but we will definitely try our best!↩︎

The responsibility for the ECTs to get accepted by a given study programme lies with the applicant.↩︎